Schloss Leizen is setting a new trend by improving what others may already do well. Our aim is to make a long-lasting contribution to your child's intellectual, emotional and physical development. In this post you will discover why you should choose Schloss Leizen for your kids.
Reason 1. Cosy, Nice and Beautiful Accommodation
Your child will feel at home in the warm and friendly set up of Schloss Leizen. A blend of natural wood, modern tiles, colourful yet calming environment and high-quality finishing fulfils the motto to deliver accommodation for children that is entirely "made in Germany".
Learn more
Reason 2. Sports and Play On-site Facilities
The territory of Schloss Leizen is designed to offer a pleasant, safe, exciting and multi-faceted environment for children. We cater to the different interests and preferences and invite your children to try our on-site offer.
Learn more
Reason 3. Healthy, Fresh and sooo Delicious!
Kids Love healthy food. But only when it TASTES. Our Chef de Cuisine Maik Diekmann makes sure that he cooks for every taste and dietary requirement of your children. Parents can rest assured: no upset stomach, canned food or sugar drinks! We cook fresh on site. Three meals every day. From regional organic produce. Healthy drinks, fresh fruit&vegetable snacks. Packed lunches for trips are also hand made in Schloss Leizen. 
Click here to see images and videos from cooking 🍳 and backing 🍰workshops with Maik.
Reason 4. Learn or Find Out?
Do we teach at Schloss Leizen? During holiday summer camps and residential class trip time? Well, we rather inspire and guide your children to find out on their own. Anything and everything can be an inspiration. For example, an apple!
Read more about our philosophy here.
Reason 5. Why we offer high safety and security standards
Do you worry about the safety of your kids when you send them somewhere? Well, if your kids are in Schloss Leizen there is no need to. As well as having qualified staff present around your kids at all times, we offer high-tech security system to keep your kids safe. High quality video monitoring and a fire protection system which complies with Germany's top security standards are benchmarks Schloss Leizen can offer you. And in case of any event: don't worry! The fire department headquarters are only ten meters away!
Reason 6: We are located in one of the most beautiful places in Germany
Ask yourself: How beautiful is the Leizen region exactly? Well, we don't have to tell you – look at the video below instead! Also called the German lake district, this area in the Mecklenburg Western Pomerania is one of the most beautiful places for your child to spend their holidays in. As well as organising activities and tours in the region, Schloss Leizen places huge value on exploring this pearl of a landscape.
Reason 7: Schloss Leizen's beautifully furnished bedrooms are safe and hygienic
Allergy safe bedcovers, high-quality damask bedclothes and cotton towels. Beautiful wooden floors covered with special natural oil and slip-free bathroom tiles to ensure that no one gets hurt. How awesome is that? Hygiene and safety heaven is what Schloss Leizen truly is. And everything is color coded so that everyone knows what is theirs and what not, too!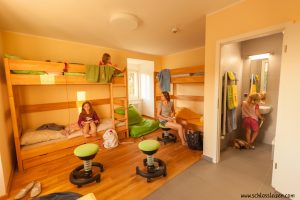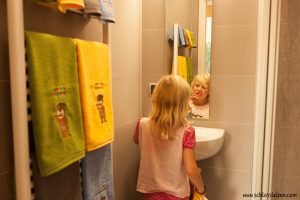 Reason 8: We encourage your children to lead a balanced and healthy life!
Have you ever had the feeling you or your child spend too much time indoors and don't go outside to play, exercise or socialize? Well, here at Schloss Leizen we try to avoid exactly that. As well as preparing the healthy meals you already know about, staff at Schloss Leizen invites your kids to play outside, exercise during training sessions and socialize during group excursions and other team activities. However, we do not force anybody to take part in all our activities (although most kids like what we do once they tried it out). 
Reason 9: Our staff truly cares!
Have you experienced educators that truly care for your children? E.g. your child's most favorite schoolteacher? Well, if you haven't or if you want to experience it again, Schloss Leizen is the best place for your kids to go. When at Schloss Leizen, our trained staff is always available and helpful. See for yourself…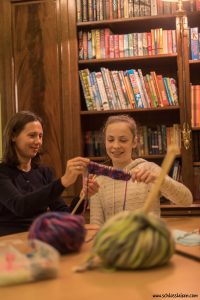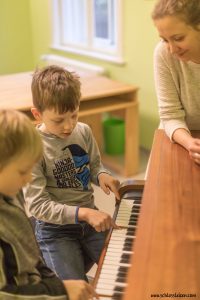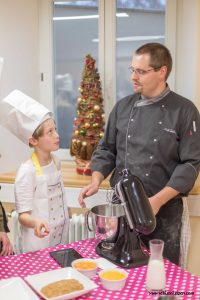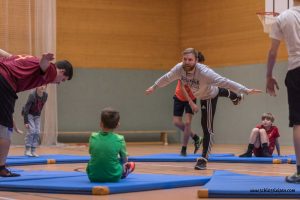 To be continued…