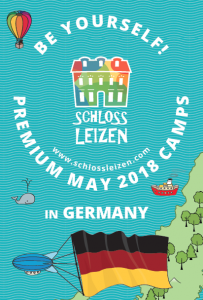 Schloss Leizen is kicking off the 2018 Camp season in May with a special water sports themed youth camp!
You have the choice between 3 different packages (Spring Camp Pfingsten 2018): stay from
May 19th to May 26th for EUR 699,
May 19th to 22nd for EUR 333,
May 26th to 27th for EUR 111.
New activities included in this package are sailing on Lake Müritz, canoeing in the Müritz Lakelands and beach football on our newly built Schloss Leizen beach soccer court.
For people who choose not to do sports we offer our newly developed internet self-defense course, where you will find out about the dangers involved in using social media or the internet in general and learn about effective cyber self-defence techniques. For more information click here.